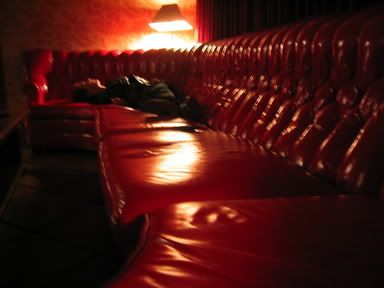 …receiver.
real:
1. existent as a thing, state, or quality;
having actuality; as, real events.
2. genuine, not artificial, counterfeit, or factitious.
3. representing reality; corresponding to what is; true.
true (to me) :
my stomach craves watercress.
my heart longs for idealistic romantic love.
my mind searches for amazing human life stories.
my creative side constructs things from feelings.
my imagination creates stories from unknown sources.
life is magical.
receiver:
1. one who receives in any manner; hence,
variously, a catcher, porter etc…
2. that which receives; a receptacle.
3. radio & television, a receiving set.
i speak in abstract terms,
it is true.
i find a lot of meaning in many things,
from the timing in which the street lights change,
to songs written by people i will never know.
magic:
1. the art which claims to or is believed to produce effects
by the assistance of supernatural beings or by a mastery
of secret forces in nature.
2. the power brought into play by magic;
hence, any seemingly occult power.
magical:
1. seemingly requiring more than human power
2. startling in performance,
3. enchanting.
i believe in magic,
some would say it is not "real",
but it plays a big part in my life.
i have seen it, felt it, lived it.
antenna:
1. a feeler, a horn of an insect.
2. a movable, segmented organ of sensation on the head of insects.
3. the portion of a radio station or receiving set,
for radiating waves into space or receiving them from space.
metaphorically speaking,
we all have antennas.
we are all capable or receiving different frequencies.
adjust our "antennas" to tune into many types of signals.
it depends what you choose to focus on,
believe in,
follow.
then there is the hard reality of life:
it happens to you.
be it mystical or earthly,
it is happening,
while we receive,
believe
and perceive what we will.
while we have no choice to accept what we are dealt,
life is what we make of it.
life is but a dream,
i believe.
enjoy it.
while i blah blah on my blog about words and notions i enjoy,
i am still writing my new songs,
and preparing for some recording this summer.
i would like to get it out quick,
although there are many boring details to schedule and arrange,
so it won't be out too soon,
but i will continue to tell stories,
and hopefully soon, share some fun studio footage.
i hope you are enjoying this nice time,
and finding good music to listen too!
xMAdMx