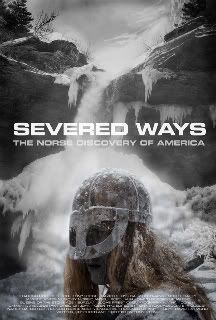 "SEVERED WAYS: THE NORSE DISCOVERY OF AMERICA"
Tony Stone's Vikings have alas landed the silver screen.
If you are in NYC please come to the Angelika film center this weekend
and explore this one of a kind raw Norse epic.
It's not everyday that a hand made,
1000 year old period piece,
dripping with black metal while exploring the pre-Columbus alt history that could've been,
hits a big screen near you and your kin- or ANYWHERE for that matter!
From my dream collaborator on OUT OF OUR MINDS-
comes THIS!
OPENS IN NYC THIS FRIDAY THE 13TH – PASS IT ON…
SEVERED WAYS will hunt you down wherever you may be!
not to mention the two 13s in a row…..
everyone listen to Danzig's "Thirteen" this day,
and visit www.1007ad.com
xMAdMx